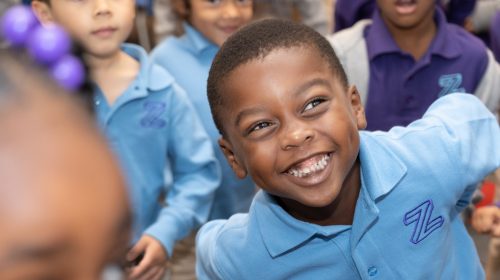 Our Application for the 2022-23 School Year is LIVE!
The application for the 2022-23 school year is now available! We have open seats for pre-K through 5th grade. Zeta schools will add one grade each year to ultimately serve pre-K through 12th grade.
We'd love to meet you, learn what is important to you about your child's education, and answer your questions about our schools. We welcome prospective families to sign up for virtual information session.
At Zeta, our commitment starts with the highest standard of academic success for every student – but it doesn't stop there. Our dedicated focus on whole-child education cultivates the mind, body, and soul so our students can achieve their greatest life potential and help create a beautiful tomorrow.
We welcome and serve children from all walks of life, whether they have been New Yorkers all their lives, whether they arrived yesterday, whether they speak English, whether they have a big home or no home, whether they can whiz through school or need special supports.
More About Our Approach
Every child deserves an excellent, free education that mines his or her unique and highest potential.
Emily Kim, CEO
Zeta is a love story.
Love sits at the heart of our mission to ensure that every child has access to the highest-quality free education from pre-kindergarten through twelfth grade. We will not stop until this is true. This is our love story at Zeta.
Zeta Locations
We will offer pre-K through 5th grade for the 2022-2023 school year. We plan to grow our schools every year until each school serves students in pre-K through 12th grade.
For the 2022-23 school year, the following Zeta locations will be open:
Zeta South Bronx: 425 Westchester Avenue
Zeta Bronx Tremont Park: 1910 Arthur Avenue
Zeta Bronx Mount Eden: 1325 Jerome Avenue
Zeta Inwood 187th: 652 West 187th Street
Zeta Inwood 138th: 500 West 138th Street
Zeta Inwood 212th: 512 West 212th Street
Visit Us!