Teacher Residency Program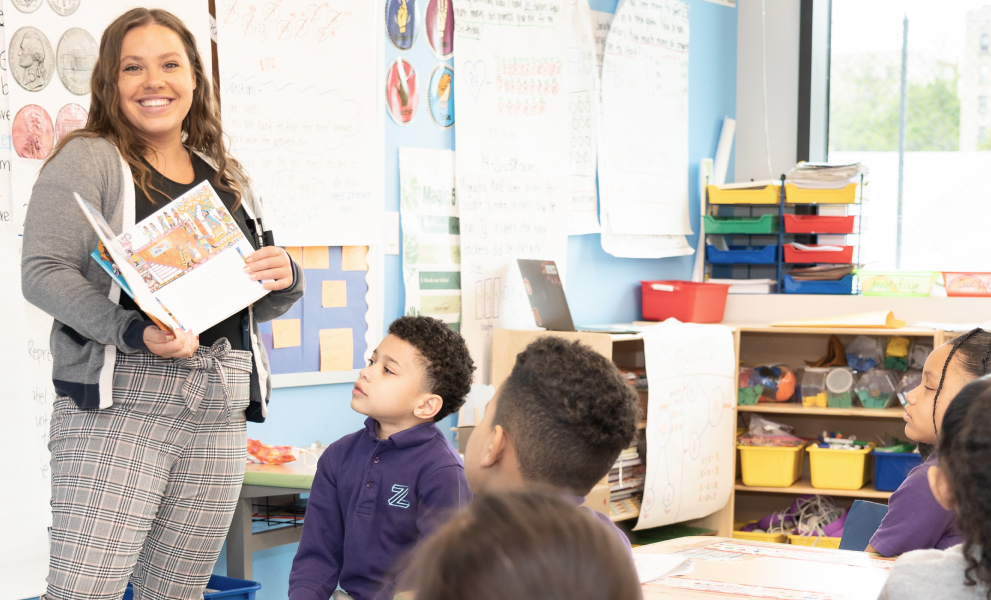 Write your next chapter here at Zeta.
Zeta's Teacher Residency program equips you with skills that will have a lasting impact on your career path, no matter which direction you choose. Join a cohort of Resident Teachers, and embark on your teaching journey with a strong support system.
Write Your Story at Zeta
You can be part of a movement to ensure that every child in America has access to the highest-quality free education from pre-kindergarten through twelfth grade. Make your mark. Write your story at Zeta.
Read Transcript >
Our Residency Program
Launch your purpose-driven career.
As a Resident Teacher, you start a journey that has big and lasting impact on students, families, colleagues, our communities, and your own career. You will grow immensely as an individual and professional as you receive individualized development unlike any other.
Earn a free master's degree in two years.
Zeta Resident Teachers enroll in a 2-year Master of Arts in Teaching Residency program, paid for by Zeta. You will learn how to elevate your teaching practice and become professionally certified as required by New York.
Get hands-on classroom teaching experience alongside other passionate educators.
You will work closely with a co-teacher in your own classroom who will support you in your learning and growth. Your co-teacher will help you set goals, plan lessons, study student data, and more.
Receive impactful feedback from your school leaders and colleagues.
We believe in consistent, clear feedback and coaching designed to support your growth as a teacher. School leaders and teachers will be in your classroom to observe you and give feedback on a regular basis. You will also meet with your leaders frequently to discuss what you are working on and ways to elevate your practice.
Become part of the educational equity movement.
Being a Resident Teacher has impacts far beyond the classroom. Joining Zeta means you are joining a passionate, mission-driven team that refuses to accept the inequitable educational status quo. We believe all children have the right to access excellent, free education. You will become part of the movement to change the landscape of public education in New York City and beyond.