Middle School:6th - 8th Grade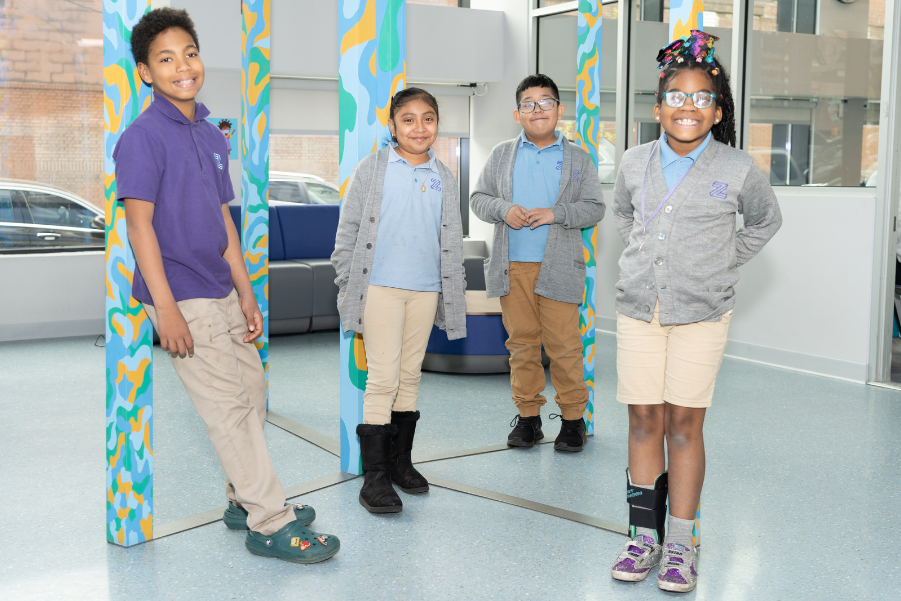 Middle School: 6th - 8th Grade
Throughout middle school, Zeta students are equipped with the critical-thinking and life skills necessary to develop positive independence. 
During daily science class, students learn the domains of physical science and chemistry, life science, and earth science. As part of the robust STEM curriculum, students learn how to become mathematically excellent, using data to make informed decisions. 
Students attend weekly classes in Z Lab, Zeta's engineering and technology-based instruction space complete with 3-D printers, laser cutters, and robotics kits. Students engage in independent study and long-term group projects that require them to balance using newly acquired content knowledge with high-level design thinking. Students venture outside of the classroom, enjoying hands-on experiences within and beyond New York City.
During daily humanities class, students engage in independent reading, enjoy deep literary discussions with their classmates, and work on long-term writing projects. In addition to reading required texts  such as The Giver, Peacemaker, and Antigone, students are invited to select books that spark their passions from Zeta's unparalleled classroom libraries.
Students study Geography, Modern and Contemporary Global History, including the Paleolithic Era, the Renaissance, the fall of the Mongol Empire, World Wars I and II, and the Age of Imperialism to the present day. By the end of their middle school journey, Zeta students are prepared to take the New York State History Regents Exam.
Daily Zeta Zen and twice daily Advisory provide opportunities to focus on responsibility and reflection. During Advisory, students learn valuable life skills such as how to study, financial literacy, and how to set, believe in, and achieve courageous goals. 
Students immerse themselves in experiential learning, discovering talents beyond their academic areas of passion. Electives include chess, dance, theater, music, and fine arts. Students interested in delving deeper into areas of interest can join after-school clubs.
Upon graduation from 8th grade, middle school students are academically prepared and socio-emotionally ready for the challenges of high school and beyond.