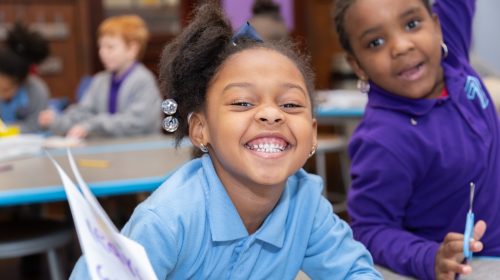 Start your child's brilliant future today.
Submit an application for the 2020-21 school year.
The application for the 2020-21 school year is now available! We have open seats for pre-K through 3rd grade, and are opening new schools in the Bronx, which will serve K and 1st grade. Zeta schools will add one grade each year to ultimately serve pre-K through 12th grade.
Ways to Apply
There is no cost to apply to or attend a Zeta school. Zeta Schools are free public charter schools serving students in pre-K through 3rd grade. We welcome prospective families to sign up for a school visit and information session.
Schedule a school tour now
Online
The quickest and easiest way to apply is through our website. Our online application is now open!
Download
Send a completed application to apply@zetaschools.org, or mail to:

Zeta Charter Schools
Attn: Enrollment
652 West 187th Street
New York, NY 10033
Why Families Choose Zeta
We know that making the right choice for your child's education is a big decision. Some of our families share why they chose Zeta, and the difference that Zeta has made in their child's path.