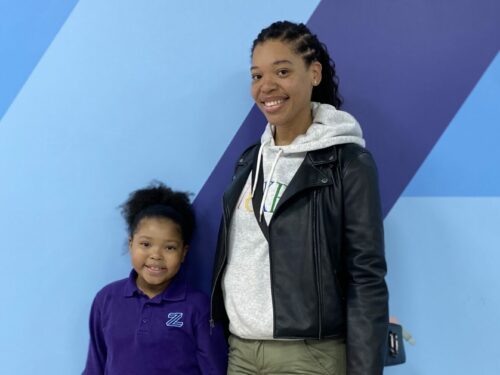 Zeta South Bronx parent Jennifer Bernardez shares why she's happy to have transferred her first grader, Zoey, to Zeta.
I grew up and attended school in the same neighborhood where I live now with my daughter Zoey. But that doesn't mean I wanted her to go to the same elementary school I did. People I know who work and teach there encouraged me to look elsewhere. I did, and it meant some transitions for Zoey. But now that she's transferred into first grade at Zeta, we both know it's time to stay.
The school Zoey was at before wasn't a great fit. I know what she's capable of, but I think of that Kindergarten as a bunny slope. The schooling was slow-paced and not really challenging. I wanted something more.
I love that Zeta offers a strong educational model with a whole-child perspective. I'm the soft, "let's talk about it," parent, so I wanted a school that also focuses on the importance of Zoey's emotional wellbeing. For instance, she's learned to hold herself accountable and not disrupt other students when she finishes her work. 
Empowered by teachers
With the Zeta Way, they teach in a different way than I was taught, but I love the fact that I'm always able to get help from her teachers. The Zeta team is so open and communicative, and they don't judge.
Zoey had to adapt to much more homework — we both did! I would see what they wanted her to do, like the Math Facts, and think there's no way. She's only six! Still, she learned how to do it, and it taught me to see past my own expectations and just let her thrive.
She's also excelling now in reading, which is amazing to see. She was behind when she started, but the teachers were great about it. They explained to her where she was and they made it a challenge for her to move up. She was like, "Ok, I need to rise to the occasion." 
Did she ever! She had moved up from D-level reading to E-level reading by December, and she kept at it. Her teachers, especially her math teacher, really encouraged her. The way he coached her made her want to keep getting better. By March she'd jumped six levels, and now she's a whole grade level ahead of where she was. I was scared back in December, when she was behind, but she's grown exponentially. 
Encouraging zest for learning
Zoey started out the year sometimes asking to go back to her old school, but I have no regrets. I didn't want the bare minimum to be enough for her. I like that Zeta pushes for that extra level of education rather than just meeting the standard.
Zoey is becoming this child who is curious about things and who seeks to learn about the things outside of school, too. Her thirst for learning is something she didn't have before and Zeta teaches her in a way that makes her want to continue to learn. It's amazing.
She's just so much more confident as well. She's in the dance club at Zeta. Before she wouldn't dance in front of family members, but we recently went to a party and Zoey walked right up to the dancers and said, "I'm a dancer." And she danced with them! Her confidence is a beautiful thing to watch.
If you're thinking of transferring to Zeta, go for it! You might not think a complete stranger will meet your child, love your child, and nourish your child into the greatest version of themselves that they can be. But Zeta facilitates that. 
We bounced around at first with Zoey transitioning through daycare, homeschooling during COVID, and different preK and K experiences, but now we know she's home.