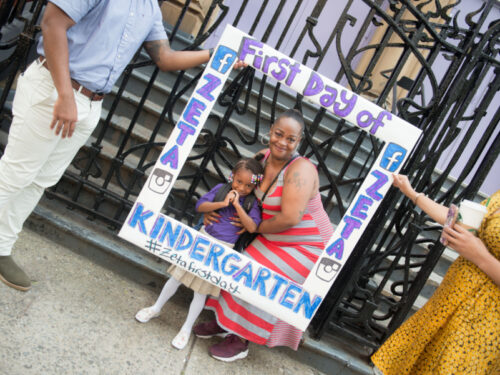 We asked some of our families to describe their Zeta experience so far to check in on how we are doing, and to help support the addition of more high-quality Zeta seats for NYC children.
We were so inspired by the letters we received.
Christopher Robertson, the brother of a Zeta Inwood 1 kindergarten student, shared this:
My name is Christopher Robertson, I am the older brother to Kassandra Robertson, who attends Zeta Inwood 1 Elementary.
To describe what Zeta has done for my little sister would be much too difficult in just a single letter, but I'll do my best to condense it into this single message.
Kassandra was always excited to be going to school since she was first told of such, however, Pre-K and Kindergarten are two very different beasts. My first worry was about the workload and the homework, as growing up I myself wasn't too fond of it. Though Kassandra wanted to do well and had a very strong desire to learn. Getting her to sit-down and relax at home was difficult, so having to sit down and do written work and learn was a big concern that the teachers here showed me was no problem. I had the chance, this year, to sit in on one of my younger sister's classes, and it was there that I got to truly see just how much this school has done for her. In other schools, I truly did not believe that she would shine as much as she has here. The mere act of staying home or going home early worries her because she WANTS to be in school and learning. She loves her home, but she loves school just as much. During her time in Pre-K there wasn't too much care about being in or out of school, and yet here, even when she struggles, she continues to want to be here.
Kassie loves to talk about what she's done at school, and she has already made so many friends here, friends who shocked me. I looked upon a class of five year olds and I saw a group of children who were the prime example of excellent students.
If this is what I can expect and see from Zeta, then I humbly request that other children have the chance to get the 'Zeta Experience' as well, and that other parents may be as pleasantly surprised as I was.
Sincerely,
Christopher Robertson
_______________________________________________
Jennifer Leonardo, the parent of a Zeta Bronx 1 kindergarten student, wrote:
My name is Jennifer Leonardo.  My son Trevor attends kindergarten at Zeta Bronx 1 Elementary.
I chose Zeta for my son because of how close and convenient it was to my house and my morning commute; however, upon getting to know more about the school and the staff, it became more than that. I love how personal they are with my son.  I love how his teacher is so hands-on and she keeps me involved in his day-to-day. In the first week I saw an amazing change in my son's academic skills. It was incredible. My son is doing so well at Zeta and I am extremely happy that I chose this school.
Simply put, Trevor loves Zeta.  He is always talking about the things he's learned or achieved. He tells strangers "Hey, I'm at Zeta!" He's so proud of himself just for being in the school, which makes me even more proud and happy with the choice to enroll him there.  At Zeta Trevor is recognized for his hard work and dedication. He absolutely loves Taekwondo, and recently came home with a white belt and certificate that he couldn't stop talking about. In fact, he slept with the belt (it was hilarious!).  
Trevor is doing really well in math, he loves to count! We also do a lot of reading and practicing weekly words. I appreciate that he takes a weekly spelling test so that I have a clear sense of where he is performing and what we should be working on.  
I could not be happier with everyone at Zeta, and I want to thank everyone, especially Ms. Appelbaum (his teacher) whom I text with almost every day about Trevor and his daily progress.
Please give another child the chance to learn and grow as my son has and give another parent the chance to feel the joy and happiness that I feel every time my son comes home with something amazing to say. Zeta should be allowed to open more charter schools, they are awesome.
Sincerely,
Jennifer Leonardo
Thank you, Mr. Robertson and Ms. Leonardo, for sharing your Zeta experiences!  Our greatest reward is the joy and growth of your children!