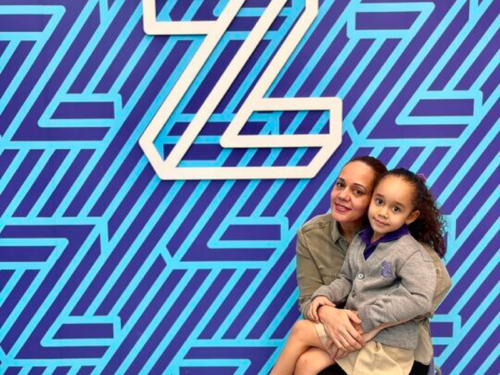 Zeta Bronx Mount Eden parent Adriana Aybar shares her enthusiasm for the school's whole child approach and its benefits for her first grader. 
When I was looking at schools for Galia, I was looking for a place to help my daughter become a great human being. She was accepted into three different charter schools and each one offered strong academics. But I'm not a parent that's just following grades. I wanted Galia to enjoy school and also learn life skills. When I toured Zeta, and heard more about their whole child focus, I knew right away, my heart was here.
Galia's now in first grade; this is her second year with Zeta, and she's loving it. I've never heard her complain or say "I want to stay home." She likes everything about the school: the teachers, the dance club, and the soccer club. And she's so excited about the new Macombs Road elementary school building  that's opening in the fall and can't wait to go to school there!
The teachers and staff work hard to build relationships with families. When Galia started kindergarten, her teachers noticed some speech delays and motor skill gaps that were missed by her preschool during the pandemic. Addressing these was challenging, but the entire Zeta team was so supportive. The school is always working with the parents and the kids to figure out an approach that works. Everyone is committed to putting the kids first. Each kid has their own way of learning and Zeta has so many different ways to get them there.
Of course, the academics at Zeta are amazing and they learn something new every day. But what I really love is how they teach the kids about their emotions and how to manage them. We're raising our children in a very difficult time right now, and for my part I can see the difference in Galia thanks to the focus on minds, bodies, and hearts, too. The students are learning resilience and to show kindness to themselves and everybody in the world. They are learning to handle frustration or being upset. Galia will even sit me down sometimes when I'm having a rough day and tell me, "It's OK to be mad. It's OK to have a bad day." She's teaching me!
If you're thinking of enrolling your child at Zeta, I'd say, "Do it! Come to my school and see how Zeta can bring out the best in your child!"