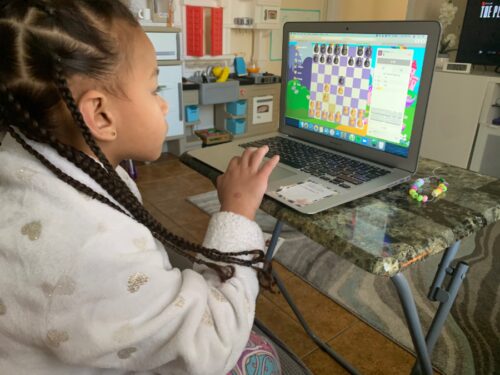 In the past two months, schooling as we know it has changed in a way we never could have contemplated or believed possible, especially for the young children we serve. At Zeta, we have launched three phases of remote schooling, concentrating our collective effort into designing and redesigning to continuously improve our new online educational model. We have focused on ensuring children are making meaningful growth in math, reading, and science, but are also committed to fostering our students' and families' wellbeing, continuing private violin and chess lessons online, and delivering Taekwondo and sports video instruction.
As one might imagine, this work is all-consuming as we sprint to figure out how to deliver education that fulfills our promise of educational excellence and equity to our students and families. In the midst of this intensity, however, there are moments when I am forced to pause, moments that crystallize for me the uniqueness and importance of this time for children and for public education.
Last week, the mother of one of our students reached out to us to ask if we could provide a laptop for her older child, a middle school student attending a district school. Six weeks after New York's schools closed, the middle school student was still waiting for his laptop from the district, and in the meantime, he and our student have been sharing our Zeta-issued Chromebook so that both can complete their schoolwork.
The day after, I read about the lack of live instruction for many NYC public school students, in part due to claims that "educators have thrown up their hands on live teaching" because not all kids have the resources to participate.
Now the profound inequities of our societal stratification are in plain sight for everyone to see—in education and beyond.
How damning an illustration of the way education is locked away from the most vulnerable children. We've known this, but, frankly, it's well hidden from the view of most. Now the profound inequities of our societal stratification are in plain sight for everyone to see—in education and beyond.
Our nation's healthcare workers need masks, and our nation's children need laptops and WiFi.
There's talk about the potential of losing a generation of learners because of the sudden shut-down of schools due to the COVID-19 outbreak. The re-opening of schools in the fall, if it occurs, will likely involve part in-person and part remote learning, with a staggered schedule for children to be physically in school so as to maintain social distancing and prevent a second-wave outbreak of COVID-19. This part-remote schooling situation will likely continue until the vast majority of the city's population is vaccinated. Given how slowly COVID-19 testing has become available, one doesn't hold out much hope of widespread vaccination of NYC's population before the end of the next school year—and some say even that timing is optimistic.
Putting aside the very serious matter of the mountain of obstacles facing many families if school does not resume as usual (how will they work?), without laptops and WiFi access for all students, and teachers providing online instruction, the compounding of educational inequity in the face of an indefinite remote schooling situation is unfathomable. Never before have we seen so clearly that the most vulnerable children's education and future are at risk and the extent to which they are at the mercy of lumbering bureaucracies. The hope that the educational establishment will come through for them is an impossible one.
Having a laptop and reliable WiFi, of course, does not mean that every child will automatically receive high-quality education. We need educators with a redefined commitment to teaching and learning, and leaders who help define what that commitment must look like to ensure children have the knowledge and skills they need to successfully navigate this changing world. But, for the first time, children universally need the technology as much as they need their teachers. With traditional, in-person schooling not possible, access to technology makes the difference between receiving education and not, between continuing to learn and being left behind.
We're about to see some remarkable, scalable things emerge—igniting a schooling revolution—and we must see to it that all children can participate.
Moreover, we are on the cusp of a radical breakthrough in public schooling. There is enormous potential at this particular moment that the Internet can truly equalize access to excellent, appropriate instruction and learning for all kids. Ed tech folks have been saying this for some time, but I frankly have not been on that bandwagon because of the lack of rigorous content of the ed tech products we have vetted (and we've vetted many!); apps are designed for saleability and universality, not high-level learning. But now, in this forced remote environment, some of the most brilliant schooling minds are hard at work creating effective (and possibly low-cost) solutions for high-level, remote learning. We're about to see some remarkable, scalable things emerge—igniting a schooling revolution—and we must see to it that all children can participate.
At Zeta, we were fortunate to be able to distribute laptops to most families who needed them before our school buildings closed. 100% of our families have access to WiFi, whether through paid access, free programs run by providers, or cell phones that we've distributed with hotspots activated. This remains an ongoing challenge as free WiFi is not so reliable in certain areas, families who were formerly paying for WiFi are no longer able to pay, and we do not know how long providers will continue to offer free WiFi access. Whatever the case, we know that in this particular moment (and going forward), our students must have full computer and online access in order to be able to continue rich, rigorous learning, however it may evolve in the future.
We also know that the content and quality of our online school model—achieved through intense iteration and reiteration—matters. For the first time, we are bringing school into kids' homes, starting an educational revolution in their living rooms and kitchens. The potential impact is boundless, but the challenge could not be greater nor the stakes higher. Now more than ever, we must work harder and faster. We cannot throw our hands up and let a generation of children fall through the cracks. This is the big moment, and we must make it count for children.