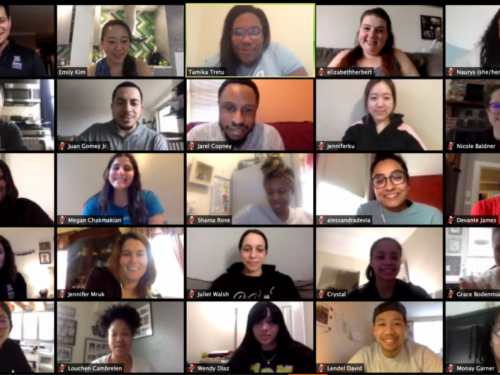 Dear Parents and Families of Zeta Team Members,
I know it's not so usual for an organization to reach out to the parents and family members of its team members.  But I wanted to do so because we are in unusual times.
I'm sure you are reading and watching the news about what's happening here in NYC, and it can sound pretty frightening, particularly if your son or daughter is working in the city and you are not here.  New York Governor Cuomo took the extraordinary action yesterday of putting New York "on pause," which means that all nonessential workers should stay home and all nonessential businesses must close.
Yesterday, I called a video conference meeting of all staff across our schools and network to talk them through what I believe this means for us at Zeta.  I wanted to share some additional thoughts with you as well, as I imagine you are trying to picture the situation for your family members here in NYC, wondering and worrying about them.
We are educators, providing world-class education to children in pockets of the city where many children do not have access to high-quality seats.  But the number one commitment we have is to the safety of our students and our staff. There can be no possibility of world-class education if people are not or do not feel safe, which is why we always have safety at the forefront of our thinking.  Our number one promise to families, even before the promise of excellent education, is to return their children to them every day in safety and health.
Although your children are grown and are making their own way in the world, I want you to know that we feel a deep commitment to doing everything in our power to ensure that they too remain in safety and health.
We closed our school buildings one week ago and initiated remote, at-home learning this past week.  Almost all of our students have Zeta Chromebooks and are learning through reading and math apps for about 4 hours per day, following individualized assignments our teachers are giving them daily.  Our students are also receiving science projects they can do at home, as well as exercise videos from our Taekwondo and Sports Coaches. We are also about to launch the continuation of private violin lessons and chess coaching via video.  Additionally, our teachers are providing online tutoring and individualized support for students and families, working very hard to ensure that our students continue to make significant learning gains even while our school buildings are closed.
This is all very new to everyone, but you would be so proud of how your sons and daughters have quickly adjusted, taken everything in stride, hit the ground running, and remained so committed to giving children access to educational opportunity.
We have urged our students, families, and staff during this period to stay home.  We have done this to limit both individual risk as well as risk to our larger community.  Amongst our community, of course, are the elderly, the immuno-compromised, and others who are most vulnerable to the severest effects of the coronavirus if they were to contract it.  The other concern is the limited healthcare infrastructure, which will quickly become overwhelmed should the coronavirus spread unchecked.
The biggest concern right now is to "flatten the curve," to slow or dead-end the spread of the coronavirus.  The only way to do that is to physically distance ourselves. We have asked our team members to practice physical distancing, and have enabled them to do so by closing our school buildings and initiating remote working for our teams and remote learning for our students.  Accordingly, Governor Cuomo's stay-home directive comes at a time when our team members have already implemented a work-at-home protocol and physical distancing.
We have seen, and will continue to see, a significant rise in the number of diagnosed coronavirus cases in New York.  We understand that this initial significant rise that you are just now seeing is largely due to the greater availability of testing; now that many more people can finally be tested, it makes sense that we are seeing more diagnosed cases.  That said, the rising number of diagnosed cases reinforces the need for our team members to stay at home while we see this through.
During New York's "pause," essential services are still operating.  People do not need to worry about being able to get food, basic medicine, or needed supplies; grocery stores and pharmacies are open and operating.  There is no need to unduly stockpile supplies, least of all toilet paper (one of our senior Directors reported yesterday seeing a lot of toilet paper on shelves in various places she went by!).  We understand that everyone in good health is able to go outdoors if needed for sunlight, fresh air, and exercise, though people should practice physical distancing (six feet) when outdoors. We also encourage our team members, their friends, and their family members to socialize with and support each other via live video feed.  Our schools and network each held a video social hour yesterday, which was a wonderful way to close out a very busy week. 
Additionally, as you read above, during New York's "pause," our schools are still in session, albeit remote.  We are so grateful to be able to continue schooling from home and to continue to employ 100% of our full-time staff members.  We know how fortunate we are to be in this situation, witnessing what is happening to jobs all around us, both amongst our own Zeta families and our larger community.  We are trying to understand the ways we can help support others, feeling deeply our responsibility as members and leaders of our communities.
We know that some of you are far away from your sons and daughters, as far as Texas, California, the Dominican Republic, France, Bangladesh, South Korea, and more.  The distance has probably never felt so far. Please know that we are here for your children as well should they need anything.  They know this, but as a parent myself, I wanted you to know this, to hopefully put your mind a little at ease.
I know our Zeta team members deeply value the various ways of connecting with you through continued phone calls and video calls; consider, perhaps, an extended video call over a cup of coffee or over a meal.  Our team members have been sharing these important moments with each other and have found them rejuvenating.
While an unprecedented time for all of us, we will make it through together.  Perhaps there's a little irony that to pull through together as a society, we must physically distance ourselves from each other.  But we are resilient and gritty, and will emerge with greater strength and connectedness and with grace.
Last, I wanted to tell you that you did good, Mom and Dad.  Your children, our Zeta team members, are remarkable individuals.  We are so lucky to have them as a part of our team. Know that you did good by them.
All my best,
Emily Kim
Founder & CEO
Zeta Charter Schools