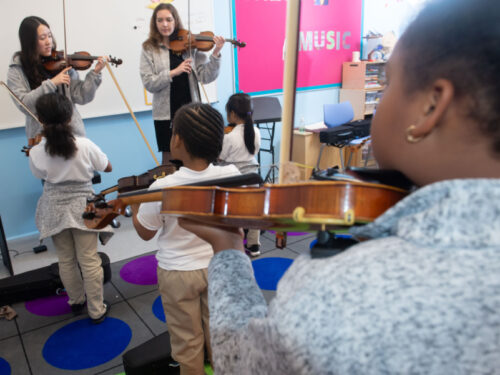 I derive endless delight observing our students in our specialty classes.  I love seeing children earn their Taekwondo belts, play a game of chess against each other, sing with abandon in music class, and code in Scratch programming language.
In the year before we launched our schools, I visited and learned about a great number of schools across the U.S.  In some schools, particularly well resourced private schools, I was struck by the sense of opportunity and choice that bowled children over the instant they walked through the school doors every day.  Do you want to plant in the vegetable garden or design tall structures in the innovation lab? Do you want to make a stop-motion animation movie in the media lab or write, illustrate, and publish a book in the writing center?  Do you want to design a dress out of recycled materials or play in the forts? Something for every possible interest and passion. The message was clear: you have the power to choose; you are in charge of your path; the world is your oyster.
At Zeta, we had set out to whittle away at the quality gap between the education lower-income children receive as compared to their higher income peers.  We know that our students will have to compete with others who have had access to extraordinary opportunities, experiences, and resources: 30-acre campuses, 3000 square foot innovation labs staffed with 8 engineers, a ballroom dancing mansion (yes, this is a real elementary school in Silicon Valley).
Our aim could not be to attempt to recreate opportunities available at well resourced private schools, but instead we focused on the question of what ultimately all of this opportunity offered children.  Was it a fun school experience? A menu of wonderful activities that would help create well rounded children? Golden path to Harvard, Yale, Stanford, MIT? Skills to potentially develop the next multi-million-dollar app as a teenager?  What was it exactly about these experiences that made it important for children to have them?
On a practical level, I saw the value of exposing children to a wide swath of activities so that they could discover their interests, experiment with, develop, and deepen their passions, potentially in early search of their life's work.  I also saw great value in giving children space, time, and resources to figure out how to manifest their creative ideas into end products, designs, and structures, problem solving any obstacles along the way. Excellent practice for much-needed development of high-level skills, flexibility, leadership, and grit for a modern, global workplace, no matter what work looks like in the future.
I also appreciated the concept of instilling in children a certainty that they have the right and ability to choose their path and author their own school experience, in preparation for authoring their own life paths.  What power for children to learn early on that they can lead lives of their own choosing.
But it seemed to me that there was something even more fundamentally important about offering opportunities to learn about these various specialty areas:  dance, chess, music, gardening, design, and so on. Simply, early exposure to these areas can turn later into deep, lasting enjoyment and profound appreciation and awe for beautiful things, adding greater meaning and fullness to life.  To illustrate: a child who learns chess in school and plays chess as a lifelong anchor through the vicissitudes of life; a child who learns dance and can later create or be inspired by a performance that says what words cannot; a child who squeaks along on a violin, and later in life, his spirit soars high listening to Joshua Bell's performance of Bruch Violin Concerto No. 1; a child who tends a flower bed and later delights in the majesty of botanical gardens.
These enjoyments serve yet another important purpose.  In the most challenging life moments, they have the power to sustain, inspire, heal, and bring people together through the shared experience of something beautiful.  They have the potential to embolden one's spirit to stay the course, no matter how difficult—a critical ability that each of our students must have to achieve his/her highest potential.
With the above in mind, we prioritized offering six excellent specialty activities to every Zeta child from the first day of school, an unusual move for a brand new elementary school: music, chess, art, Taekwondo, sports, and Z Lab. We are also launching a Suzuki violin program next year, and are further eyeing the possibility of dance.  And we know this is just the beginning.
I see the potential of our specialty activities at Zeta to expand and enrich our students' life experiences in unimaginable ways. This potential drives our highest commitment to the non-academic side of our schools, as well as our academics, in our effort to equip children with the ability to pursue their best possible life, one of their own choosing.