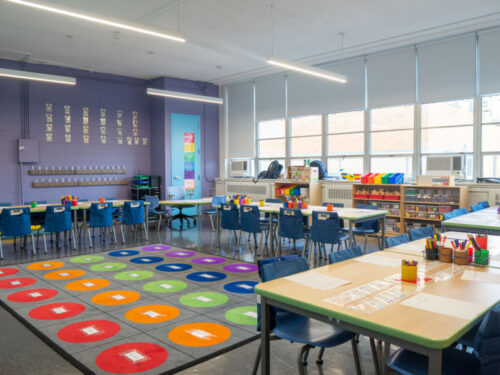 My starting place for envisioning what Zeta would be was what my husband and I want for our own three sons.  We want not only an excellent academic education for them, but also an education that teaches them to become their best selves in every realm. We want an education that gives them the space and time to explore, build, and create in a hands-on way so that they can discover their interests and passions, while broadening their horizons. We want them to be challenged and to learn to tackle and solve real-world  problems in creative ways. We want them to run and play at school, sweating from the exertion. We want them to race to school every day, excited about spending time with their friends and eager to do their best for their beloved teachers. We want their teachers to regard them as the beautiful children they are, and to see and cultivate the hope and promise we see in them. The school of dreams.
So I set out with the team to build just that, since children deserve no less.
World-Class Academics
We knew the foundation must be academic excellence. My founding leadership team and I spent many years at Success Academy Charter Schools, the highest-performing network of charter schools in the nation. Success sets the standard for academic excellence in schools, and we carried with us to Zeta the same commitment to academic excellence.
Mindfulness & Wellness
We were keen on identifying a world-class social-emotional and mindfulness program that would help children to embark on a journey of self-discovery and growth, supported by their community of classmates and teachers.  Meghan Mackay had learned about a program called Compass created by a small Nashville-based middle and high school charter network, Valor Collegiate Academies. Meghan, Amy Cruz, Allison Collins, and I flew out to Nashville to find out more about Compass and whether it was something we ought to consider. One of the things we saw at Valor that impressed us most was the high level of self-regulation of middle school scholars as they transitioned between classes. A small thing to notice, but after visiting many schools across the United States, something was notably different at Valor. We then observed the adults engage in an adult community circle, sharing openly their personal journeys with each other (the same type of circle their scholars engage in), and we noticed that both kids and adults used words of responsibility and ownership during classes to encourage appropriate conduct and focus. Impressive. We decided to implement the Compass practice at Zeta, adapting it for young children, because we were excited about the potential for extraordinary personal growth and empowerment of students over time if we began this practice starting with 5-year-olds. Meghan wrote about Compass here.
I was also acutely focused on ensuring that children had a lot of time to run around, play, and socialize with each other. We made recess sacred – every child would get 20 minutes of recess every day (nearly 30 minutes if the kids can transition quickly to the recess yard and back!), and they would also play different sports once per week and Taekwondo twice per week. I wasn't sure (still am not sure) that Taekwondo will be scalable for all our schools as we grow, but I wanted to try to build this values-based sport into our regular routine. Fortunately, we found an extraordinary young lady, Savannah Grace Lynn, at Duke University who was enthusiastic about our Taekwondo vision and agreed to come on board to build and teach Zeta's Taekwondo program.  (Savannah just moved to the city and is currently spending time in Meghan's basement recording exemplar Taekwondo videos for the kids – inspiring!)
Another dimension I felt strongly about was the provision of time and space for children to discover and explore new interests and passions, like chess, music, and art (in addition to the sports mentioned above), which we decided to offer at both of our schools. In particular, I wanted to launch a Suzuki violin program. The beauty of classical music has defined and elevated my own life and the life of my family (my husband is a professional violinist). I could not imagine creating a school design that wasn't permeated by music. While it proved too complicated to have an actual Suzuki violin program in Year 1, we found an experienced Suzuki cello teacher, Jessica McWilliams, working in Singapore, who was eager to take on the task of building a strong Suzuki foundation in music class for all of our students. Jessica is designing backwards from the vision of a robust orchestral and chamber music program years down the road. I am delighted to see in the seeds of Jessica's curriculum planning, which she is hard at work on, something extraordinary about to take flight.
Innovation Culture:  Z Lab
The other important element was for children to have the time and space to build, explore, create, and tackle big, real-world problems. We decided we needed an innovation laboratory at the heart of every school, inspired by MIT's Lifelong Kindergarten concept. What a wonderful idea – kindergarten, exploration, and learning for life! So we designed our innovation "Z Lab" with the belief that every Zeta student would learn and explore in Z Lab, no matter the age or grade.  In Z Lab, children learn engineering concepts through play, or they use design thinking principles to build something useful or beautiful, or they attempt to creatively solve real-world problems like how to build irrigation systems in certain drought-prone parts of the world. The possibilities were endless! We were intrigued by the prospect of teaching children complex engineering concepts through play – as well as the possibilities for increasing sophistication as Z Lab evolves with the kids, to prepare them to be leaders and creators in a modern, digital economy. Meghan also wrote about Z Lab here.
WOW Through Family Service
For years, I have been fascinated by the way many companies in the private sector have elevated customer service to exceptional levels. In particular, I have been interested in how places like Disney and Zappos and hotel chains like Marriott and Hampton Inn have maintained notably high customer service levels despite their size. In my view, education is a service industry. We serve children and families, and families should have choices regarding their children's education. If they're not happy, they should be able to find a school that meets their expectations. So we started by asking ourselves how we build a set of schools that families would choose even if the most expensive, elite private school were next door and free. We studied Airbnb's 7-star customer service approach, and adapted Zappos' first core value (deliver WOW through service) into a version that was appropriate for us (deliver WOW through family service). We determined that the WOW factor would not only be for our students and families but also for our Zeta family because we knew that our staff could only deliver WOW if they experienced it first-hand.
The above four concepts became the pillars of our school design.
We are beyond excited to launch our next-generation charter schools this August. We are already getting to know many families who are joining us on this extraordinary journey. It's for them that we aim to deliver our school of dreams, because children and families deserve no less.