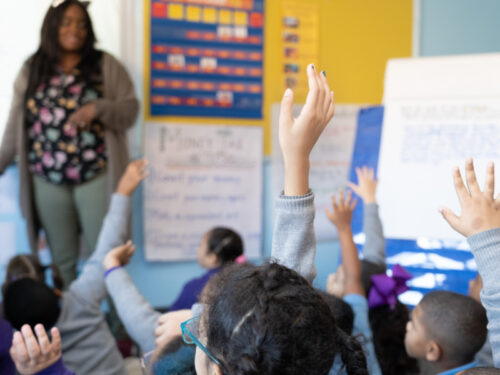 Every Zeta leader is charged with the responsibility of living, breathing, and practicing excellence in every regard in order to drive a high-performance Zeta culture. We talk about the difference between high-performing (well within our wheelhouse) and a high-performance culture (what we constantly strive for).
Here are two examples:
Several months ago, I went to a facilities-related meeting in a multi-story office building. I walked into the building, and there were two security agents behind the desk. They barely seemed to notice when I walked in, and were talking about how many sick days they had and that they would definitely be using all of them. I felt like I was interrupting them, and as I started to ask them which floor to go to, the man, without looking at me put out his hand and said, "ID?" I handed him my ID, and he continued talking with the other security agent, never making eye contact with me. He handed me a pass and said gruffly, "8th Floor." The building was a little confusing, and I had a hard time finding the elevator bank. When I asked the security agents for help, again I felt I was annoying them, but one of them pointed the way with his finger—again, barely any eye contact. I went up the elevator to the 8th Floor. When I opened the door to the office, there was what I would characterize as a "chilly" reception area—stark, little love or personalization infused into the design. The woman at the desk seemed surprised/confused to see me, and had me wait 10 minutes beyond the start time of the meeting. I thought perhaps she had forgotten about me, so I reminded her I was still waiting. I was then called into the meeting area—no apology for having had to wait an additional 10-15 minutes. A couple of the people I was meeting with also came even later to the meeting.
By contrast, a couple of weeks ago, some Zeta colleagues and I went to another facilities-related meeting, also in a multi-story office building. As we walked into the building, there were several security agents behind the desk. One of them made eye contact immediately, smiled warmly, and asked for our ID. She gave us very detailed instructions on how to get to the waiting area. There were other security agents along the way who proactively directed us in the right direction. At one point, we got off on the wrong floor. We went to the security agents on that floor, and one greeted us with a smile. She not only told us where to go, she walked with us and punched in the correct floor number in the elevator bank for us (something we easily could have done ourselves!)—and she wished us a good day. When we got to our destination floor, the security agent on that floor smiled and offered to take our coats. Someone met us almost immediately and walked us to our conference room, talking with us very pleasantly about the snowy weather outside. The meeting started on time, with everyone present from the start.
Both entities are high-performing in their industries. But only one is world-class and top of the heap—you might have guessed: it's the latter. They are best in class in their industry, and it is clear why. They are excellent in all things, big and small. Being excellent in small things matters because it translates to excellence in all things.
When an organization has a high-performance culture, you experience it down to a person. From the moment you walk into the building, from top to bottom, there's a palpable feeling of excellence. And for us, what it means is more than just excellent outcomes and work (which is a given), but also a feeling of warmth, people tripping over themselves to be helpful, genuine affection and respect for those who come into our community (including amongst each other). People are dressed professionally, interact with people with high professionalism; the place looks well cared for. You can tell people are proud of their work and give 110%. Something about being in the place makes your day a little better. Makes you sit up a little straighter. Makes you strive to be better and rise to match the excellence around you.
Leadership must first set the tone and example in all ways, and then must expect the same from their teams. This is what we mean at Zeta by high-performance culture.