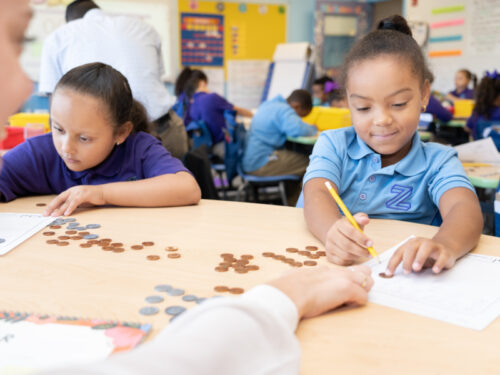 "Just as students learn to read and write by reading and writing, they learn mathematics by doing math… solving real-world problems with no prescribed means of solving them."

-Apany and Vavoso, 2008
When I was in elementary school, my teachers taught me that when I needed to add or subtract, I should line up the numbers and "carry" or "borrow" to make my calculations.  I also learned to count as high as possible, rather than in groups. In elementary school I felt like I was great at math! But when I got to middle and high school, math was really hard.  I struggled enormously, and it wasn't until I began teaching math that I figured out what I didn't know. I knew how to follow procedures, and I knew how to count, but I had no idea WHY numbers worked they way they did. Learning this as an adult completely changed the way I thought about and taught math to my students, and I am excited to bring that to life at Zeta.
At Zeta schools, we want our students to have a deep understanding of mathematics.  In early elementary, if our kids can count, they can solve problems, and if they can solve problems independently, they will love math! Throughout our school day we offer multiple opportunities for students to build their conceptual understanding of mathematics through a variety of games, routines, word problems, and other mathematical tasks. Our goal is to get our students to successfully think, talk, and write about mathematics as much as possible. We believe that learning mathematics is about constructing ideas, sense-making through collaborative experiences, and developing a deep understanding of numbers and the place-value system.
Our approach to math instruction is directly aligned with the New York State Next Generation Mathematics Learning Standards (2017). Mathematics at Zeta is always student-centered, hands-on, and fun! Our students will be able to learn from one another in order to attack real-world problems. We will do this through multiple math components each day: Math Workshop, Word Problems, Math Routines, and Fast Math Facts.
In Math Workshop and Word Problems students will be presented with a new challenging problem to solve using a variety of manipulatives (cubes, hundreds charts, or drawings) and their own strategies. Students will use addition, subtraction, multiplication, division, and even fractions starting in kindergarten. Across all of our math components, the teacher acts as facilitator. Students then have the opportunity to teach their strategies to their peers and participate in a discourse where they are able to compare strategies and ask each other questions to deepen their own mathematical reasoning and thinking.
Two other components of math at Zeta are Math Routines and Fast Math Facts. Each morning, students begin the day with Math Routines. In Math Routines, students use routines to practice learned skills, such as counting around the room and quickly solving math problems portrayed in images.  Math routines help students develop counting skills, number sense, and perseverance. Finally, Fast Math Facts offers students the opportunity to pair all of their conceptual math learning with mastery of basic facts, building towards automatization to help give them the foundation they need to do more complicated mathematics without getting bogged down in simple computation.
We can't wait to foster your student's love of math, and to hear from you about the incredible math skills your students acquire in the weeks and months to come!