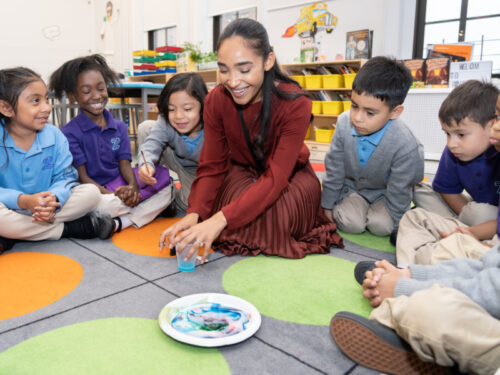 At Zeta, we set out to make learning come alive, and aim to deliver learning experiences that give children autonomy and authentic learning.
When I think back to my own learning experiences in elementary school, I recall sitting in a desk placed among others in an isolating row format.  I remember vigorously copying an equation or a writing prompt that my teacher wrote on the board, erasing and rewriting to be certain I copied it exactly the way my teacher had written it. When lessons began, the most dominant voice in the room was the teacher's. Exchanging ideas, or simply talking with my peers was not allowed. The room was silent, and there were only occasional moments when a student could raise his or her hand to either ask or answer a question. This approach to learning where the teacher does all the talking, is not what we consider to be the best way to prepare our students for our connected, competitive modern world. At Zeta, we set out to make learning come alive, and aim to deliver learning experiences that give children autonomy and authentic learning. One of the ways we do this is through Project-Based Learning ("PBL").
We believe all students, beginning at a young age, need access to real world learning experiences that enable them to gain the skills they need to be successful in college and beyond. In PBL, students develop expertise by researching a topic both as a part of a group and independently. Students then share what they've learned with their peers. The PBL topic spans the entire school day. This approach allows Zeta students to develop deep content knowledge as well as critical-thinking, creativity, and communication skills in the context of doing a genuine, meaningful project. No longer is the teacher the only resource for learning. In PBL, the students take the lead.
For our first PBL unit, students took on the role of explorers as they immersed themselves in the world of geography and the seven continents. Students used Google Earth, puzzles of the world, and a wide variety of other maps and globes. In reading workshop, students learned about the climate and culture of each continent. In read aloud, students were exposed to rigorous texts that exposed them to geographical facts followed by rich discussions around this information. In Z Lab, students investigated in groups and learned how to read a variety of topographical maps. In writing, students utilized the information and geographical vocabulary they've learned to write their own expert pattern books to teach their readers something they've learned about the world.
As a teacher, the greatest pleasure is to see your students take complete ownership over their own learning. During PBL, I watched with delight as my classroom transformed. The room buzzed with student voices during group work as my students sprawled out to excitedly share their ideas. Even though I did not provide my students with a set of explicit instructions or guidelines, they were attentive and curious. They were thoughtful and analytical. They assigned jobs to one another and ensured all tasks were completed. Just like adults. Day after day I found myself on the sidelines while my students took the lead. I could not be more proud as they asked me hard-hitting questions. My students became the leaders of discussions. I listened as Chanel and Iyanna discussed the many different climates that could be found in Asia.
When using Google Earth, Hasahn noticed that when we zoom out, the scale of the map changes and so does the level of detail. I observed as Christopher and Hadassah spoke about how the different type of land on each continent seemed to influence the people living their way of life. And while we of course are working to ensure all of our students become outstanding readers, writers, and mathematicians, school encompasses so much more. We want our students to see school as a place of exploration and wonder, to develop their passions and interests, and to take joy in their own discoveries. While many units end with a test to assess what students learned, there is no need in PBL. It is clear from the end products that our students walk away with that they have gained a multitude of life skills and content knowledge.