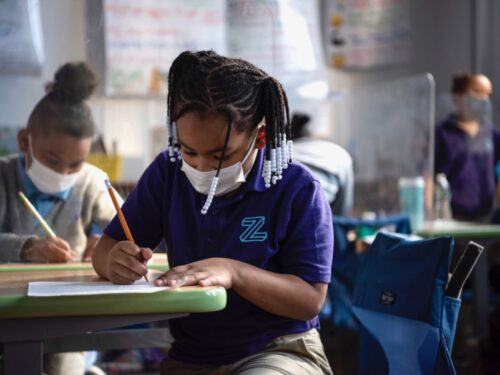 This past Friday, New York Supreme Court Judge Frank Nervo deemed New York City's refusal to screen public charter school students for COVID-19 to be "illogical," ruling in favor of testing.  In the lawsuit, the NYC Department of Education contended that coronavirus screening didn't constitute a health and welfare service but was merely being conducted for surveillance purposes.  Judge Nervo called that assertion "beyond incredulous."
Refusing to test the city's nearly 136,000 charter school students—most of whom are children of color from lower-income families—is further complicated by the fact that many New York City charter schools share DOE buildings with traditional public schools.  For the DOE to take pains to avoid testing public charter school students and staff who are in close proximity to their traditional public school counterparts is a nonsensical effort that puts both groups at risk.
For schools located in certain "cluster zones," where the rate of spread is high and hospital capacity is low, the NY Department of Health requires that 20 percent of the student and faculty be tested weekly for two weeks for the school to open, and the school must continue such testing if school-wide positivity is at or above that of the cluster zone.  The CDC does not mandate school-based testing but takes particular note of schools serving "large proportions of racial and ethnic groups that have experienced higher rates of COVID-19 cases relative to population size," noting that "school administrators may consider placing a higher priority for testing" in these schools.
The NYC DOE is making no such consideration for public charter schools, which largely serve portions of the city that have been disproportionately impacted by the COVID-19 pandemic.  The DOE's exclusion of charter students and staff from its school testing regimen imposes yet another immense roadblock to charter schools reopening their doors to children.  The DOE turning its back on charter school children in this way is unjustifiable in the midst of a worldwide pandemic.
It's also illegal.  New York law requires the DOE to provide children residing in the city, whether they are DOE or charter school students, to be given "health and screening tests" upon their school's request.  This requirement is "unambiguous," Judge Nervo wrote in his decision.
Despite Friday's unequivocal court ruling by Judge Nervo, the DOE has already announced that it intends to appeal the decision.
The bottom line is that New York City Mayor Bill de Blasio and Schools Chancellor Richard Carranza have directed the DOE to discriminate against public charter school students.  In the midst of the devastating COVID-19 pandemic that has already claimed the lives of half a million Americans, political theater has taken precedence over health and safety.  New York City public school children, their families, and the staff who ensure these kids receive a solid education are being put at grave risk for no logical reason.  They are being treated as nothing more than collateral damage sacrificed to political machinations.
If only the Mayor and the Chancellor channeled their energy to help vulnerable children and families rather than working against them, our schools would be safer places for all.
This fight for what's right isn't over.  Kids and families are standing up for themselves, and we stand with them.