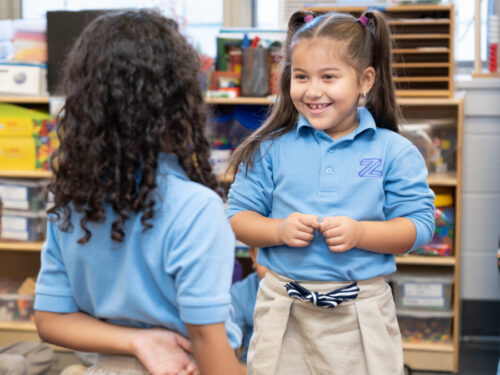 At Zeta schools, we're preparing our students for future success, wherever their paths may lead. Alongside our top-notch academic program, we're bringing a focus on mindfulness, presence and balance to the classroom.
To give our students the best opportunity to internalize and live our values – to build strong minds, strong bodies, strong souls and strong connections for a beautiful tomorrow – our schools embrace a rich social-emotional learning environment for both children and adults.
Fostering fulfilling lives
Our school day starts with a morning meeting at the beginning of every day. First, a short period of meditation sets a calm, centered tone. Then our teachers review the schedule for the day, since children find comfort in knowing how their day will unfold.
Several times each week, the schedule also includes work through a social-emotional learning program called Compass, which gives everyone – students, teachers and staff – the opportunity to focus on  their own "true north" by balancing their minds, hearts, purposes and actions.
This values-based, self-directed approach helps our students understand:
Who they are
What their strengths are
What makes them good people
What they need to work on
What their passions are
How they can use their passions for good
Helping kids find their way
Our social-emotional learning approach is about more than just building kids' inner lives. It's about giving them the opportunity for self-direction. To find their inner motivation, children need confidence in themselves, and they need the tools to self-regulate. Like all of us, kids will work harder when they are tackling something they really care about. Through self-reflective character work, our students have the space and time to reflect on their inner lives, which focuses and makes more meaningful what they are learning and doing in other realms.
Through our social-emotional learning approach, everyone – students and adults – work through a personal journey. Along their journey, students earn badges, which recognize important life skills like knowing one's identity, respecting others and being a good citizen.
Each week, our students gather in circles to talk about the progress they've made. These circles create an authentic way of connecting with others and give everyone the opportunity to be open and vulnerable. Even those who at first might not feel comfortable with this type of sharing gain value from deeply listening and learning.
Within our social-emotional framework, there's a specific path and a basic structure everyone learns, but the program will evolve as our students mature. Ultimately, we envision our future high school students taking on internships that are centered around their passions. We see them prepared for their beautiful tomorrows, where they stride confidently into the unknown, trusting that their unexpected journeys will exceed their highest expectations.