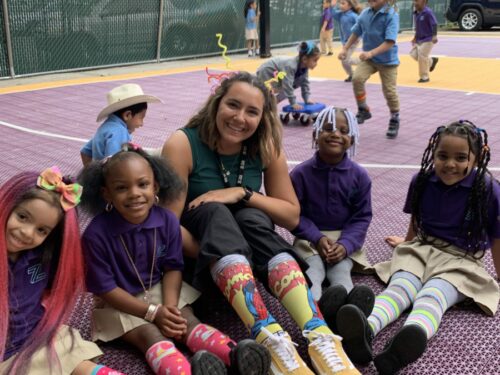 At Zeta, we prioritize not only our students' academic education, we also deeply value their emotional and social well being. We value their happiness. I learned quickly that the happier our students are, the more excited they are to be in school and learn! In my classroom, I had to consider my students and what makes them happy while determining how I can foster joy and maintain their excitement at being in school. 
My class loves to dance! Throughout the day we have all of our lessons split up into different components or blocks, and in between each block we try to make sure we take 1-3 minutes and come to the rug and just dance. My students get the chance to turn off their brains and just get silly with their friends. We call these wiggle breaks!
Another way we increase the joy is by having what we like to call EPIC Parties! On our whiteboard we have a big EPIC jar, and when our class as a whole shows Excellence, Perseverance, Integrity, or Community we earn an "EPIC Point." Our jar holds five points, and once we as a class earn five points, we earn an EPIC party! When we host an EPIC party, it's not your average celebration; we try to go above and beyond and think outside of the box in order to find as many ways to have fun as we can. 
This year alone, we have had a variety of EPIC parties. Our recent favorite was a rock-paper-scissor party. We all went to the rug, found a partner and started a timer for 10 minutes. Each student had 10 minutes to play rock-paper-scissors with as many friends as possible for as many rounds as he/she could in the ten minutes. This might sound like a breeze, but trust me . . . it was intense! There were laughs, there were serious poker faces, and of course uproars of, "I had a scissor first!" Most of all, the entire 10 minutes was spent laughing, smiling, and having fun. 
Other EPIC parties we've thrown have been donut parties, pizza parties, coloring parties, play-doh parties, crown-making parties and lego parties. The possibilities are endless, and the outcome is the same. 
When you show students that they can have fun while learning, they become lifelong learners. They are excited about the idea of coming to school, learning something new, seeing their friends, making great choices, and they know all of their effort and hard work will be celebrated. At Zeta we are not in the business of being boring; we are not your average school. Zeta leads with joy, our students are joyful, and through all of the work and fun that we have, we are building the next generation of leaders.