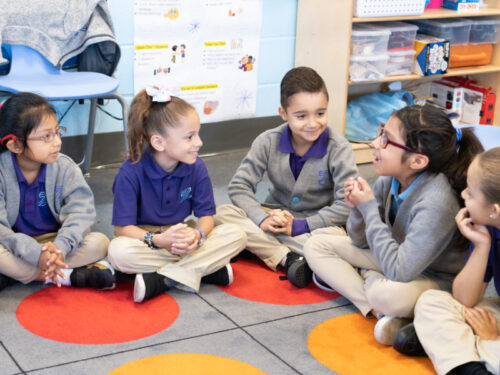 Every week something amazing happens at Zeta called Circle. The concept is what drew me to Zeta Charter Schools. Circle is a fundamental component of Zeta's Social-Emotional Program, offering an opportunity for students—and staff—to build authentic relationships through sharing personal experiences, resonating with one another, and showing gratitude toward each other. My very first week working at Zeta, we had a staff Circle, and it completely changed my perspective on the importance of being willing to be vulnerable at work, especially given our work with children and the role we play in their development.
During my first Circle I learned for the first time, from colleagues whom I have known for many years, that they had experienced tragic situations, including the loss of parents. I watched colleagues who were meeting for the first time connect over challenges they had experienced as children and immediately understood what fueled their fierce commitment to the success of all students. Everyone from the CEO to the Community Alliance Associates took the time to publicly appreciate each other for things large and small. There was laughter, tears, and an abundance of empathy and gratitude. That one single hour managed to bring a group of strangers together as a team, and I could not wait to see how that same magic would translate into our classrooms.
Three months later, we had two schools buzzing with students, and Circles were happening in every classroom. Students were practicing mindfulness breathing exercises, they were able to articulate how they were feeling, and they were looking each other in the eye and appreciating one another for things like being a good friend.
This weekly experience is teaching students from a young age that their feelings are important, valid, and able to be managed as long as they know how to identify them and understand what coping mechanisms work best. They are learning ways in which they are similar to each other and about the importance of appreciating one another's differences. I am in awe of how quickly they are taking what they are learning in Circle and bringing it into the rest of the school day, and cannot wait to see how these social and emotional skills will serve our students as they grow and evolve into active members of the community at large.
With gratitude,
Julie Melki
Director of Special Populations
Head of Social Emotional Learning