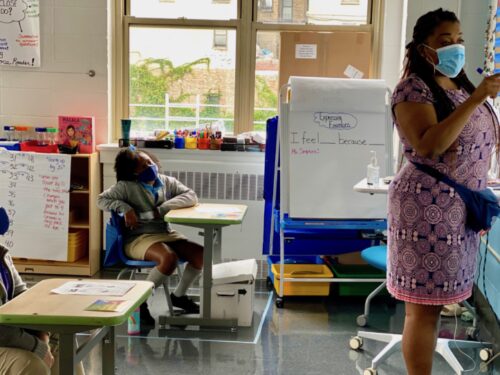 March 8, 2021 Update:
As we reopen our schools for in-person learning again, we have modified certain closure protocols in light of our learnings and revised health department guidance.  First, because our local health department will no longer mandate the quarantine of an entire classroom in the event of a positive case, we have also revised our policies around this.  Now, only students/staff who were within 6 feet of an infected individual for ten minutes or more (the definition of a "close contact") will need to quarantine if an individual tests positive.  Second, we have modified our school closure protocol with respect to closures in the event of multiple COVID-19 cases in a school.  Whereas previously our policy was to close a school automatically in certain situations where we had two or more COVID cases in a school, we are no longer going to reflexively close our schools as a result of two COVID cases.  Our two case closure protocol mirrored the NYC DOE's policy, but was not required by state or local health department guidance, and was overly conservative.  In light of all the other preventative measures our schools are taking (masking, distancing, sanitizing, screening, etc.), the two-case closure rule is not necessary, as health experts have acknowledged, and it unnecessarily disrupts learning.  Health department regulations require us to notify the local health department of any COVID-19 cases in our schools, which we will continue to do, and to follow their guidance on closure—which we will also do.  This may mean that we close a school as a result of multiple cases, or we may not; it will depend on the results of any health department investigation and assessment.
Original Post:
Deciding to reopen our school doors meant that we needed to equally prepare to close them again in the event of COVID-19 positive cases.  We labored extensively over what we would do—what was required—in various scenarios.  This effort was incredibly difficult, as new rules and standards were constantly coming out from the alphabet soup of educational and public health bureaucracy, and not always consistently:  the CDC, NY state, the NY State Education Department (SED), the NYC Department of Health (DOH), the NYC Department of Health and Mental Hygiene (DOHMH), and the NYC Department of Education (DOE).
We tried to study everything that came out, attempting to make sense of it all and translate the rules and regulations into practical schooling.  Here is where we landed with respect to building closure.
At the center of our building closure planning is the notion of the "batching" of students.  We understand from medical experts that the batching of students is key to minimizing the spread of COVID-19 in schools (in addition to hand washing, masking, and social distancing).  (See Unofficial Implementation Guide to Reopening Amidst COVID-19 . . . Evidence-Based and Operationally Focused by Dr. Somava Saha and Dr. Prabjot Singh.)
When you batch students, you maintain students in groups that stay together throughout the day, and you separate each group from the others as much as possible.  This way, if someone within a batch is diagnosed with COVID-19, you can have the single batch quarantine and go to remote education for 14 days rather than shut down the entire school building.
At our in-person pod schools, each pod has about 20 students, and students stay with their pods in their classrooms during the school day rather than rotating to other classrooms like the science room or specialty rooms, as well as eat breakfast, lunch, and snacks in their classrooms.  Each pod has a Head Teacher and usually shares a second teacher with, but does not interact or share space with, one other pod.  If we were to have a COVID-19 infection within a pod, that pod, the impacted Head Teacher, and the second teacher would immediately quarantine at home and go to remote education.
We have also taken measures to isolate people from outside the pod who come into the classroom periodically (such as the academic leader or someone coaching a teacher).  In these situations, we follow the NYS Department of Health's guidelines on exposure, and ensure that adults are maintaining social distance, defined as six feet of distance from other people or separation by a physical barrier, to the maximum extent possible.  Any exceptions should occur for a minimal time and should not constitute close or proximate contact, defined as either non-socially distanced contact for 10 or more consecutive minutes or 15 or more total minutes over a 24-hour period.  We have obtained clear physical barriers (on casters) that are seven feet tall and four feet wide to help adults outside of the pod to maintain social distance when in classrooms.  And of course, everyone must wear a mask at all times.
With batching, hand washing, masking, safety protocols, and social distancing in place, under our building closure plan, the closure of our entire school building should not be a common occurrence in the absence of an outbreak.  In most cases, if there is a confirmed diagnosis, only that individual's batch would be exposed, and we would send just that batch to remote education rather than the whole school.  Arriving at this understanding was crucial to our decision to reopen, as we did not want to knowingly head into a situation where we would have to open and close our school doors repeatedly; if that were the case, we would have remained fully remote instead.
Our school closure approach contemplates and agrees with the NYC DOE's school closure chart, which we understand follows Taiwan's school closure approach, considered the "gold standard."  However, the NYC DOE's chart is bare bones, and we extrapolated the principles to 13 different scenarios, attempting to closely follow relevant guidance, so that we could be as prepared in advance as possible.
Zeta's Staff Facing COVID-19 Quarantine and Closure Chart is linked here.
While the scenarios in this chart seem simple enough to follow, the reality when we reopened, even after one week, was that many kids present with typically commonplace symptoms that are also symptoms of COVID-19—runny noses, coughs, headaches.  We are erring on the side of caution and treating these as seriously as other COVID-19 symptoms, but especially as it gets colder and we enter cold and flu season, we know that this will result in a possible overidentification of students who need to be treated as COVID-symptomatic.  Our hope is that the increased availability of rapid testing, as well as increased medical understanding of the disease, will help us better distinguish between COVID symptoms and run-of-the-mill childhood illnesses, so that we can keep more kids safely learning in school.
Finally, I would note that we almost certainly will need to adjust our approach as we experience more through our pod schools.  We will update our chart with any learnings.  We also welcome any feedback that others may have as they take on this immensely challenging topic.
We are sharing our learnings and experiences in hopes that we can be a source of concrete encouragement, learning, and support amidst tremendous noise as schools take the necessary steps toward safely reopening their doors.  Our last post sharing our lessons learned during our first week after we reopened our schools is here.  Stay up to date with all of our blog posts by visiting here.