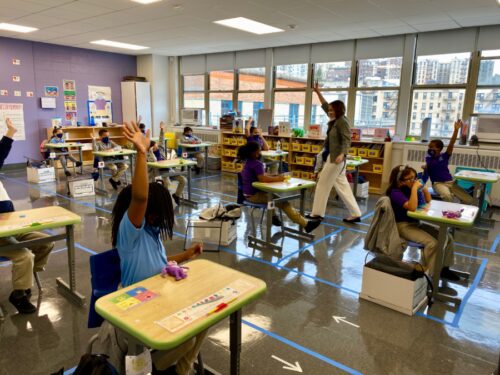 We so appreciate the many notes of support and encouragement around our school reopening, and the questions many have sent us about our planning processes and lessons learned. We will be sharing information about five of our operational systems, including photos/videos in a virtual Q&A on school reopen, hosted by NewSchools Venture Fund, on Wednesday, September 16, from 12:30 to 1:30 p.m. EST / 9:30 to 10:30 a.m. PST. Register for the Q&A here.
It's the end of our first week of in-person pod schools at Zeta, and we have learned many lessons!
The first and most wonderful lesson our team shares is that coming back to in-person schooling is incredibly joyful. We were happy this week. It is hard to describe the small pleasure of a spontaneous social interaction, colleague-to-colleague, adult and child—a wave, a shared look, a thumbs up, a wink, a quick hello—a nanosecond of love and support flitting between two people, sometimes without a word spoken. It fills our cup. On my part, I personally did not realize the extent to which I must have been living with a heaviness these past five months, as I felt life with a lighter heart again this week. It is good to be back.
We asked our school leadership team to share their top practical lessons they have learned, and we have aggregated them here so others can benefit from these experiences.
Kids (and adults)

can

wear masks all day: Turns out wearing masks all day has generally not been an issue. It's not our preference to wear them all day, but it was not a problem like we thought it might be. We did not experience kids taking their masks off, swinging them around, or playing with them. Regular, planned mask breaks are a big help. Most of our staff prefer masks that do not touch their mouths, which gives a little room. A handful of our students came to school wearing face mask brackets that lift the mask away from the mouth and have the added benefit of keeping the mask in place.
But we did experience mask problems: Masks kept sliding down our kids' little noses. We would replace masks that were ill-fitting with kid-sized masks, but mask slippage was an issue especially by the end of the day. We are obtaining cord locks for masks and also looking into the face brackets we saw kids wearing. Additionally, we are obtaining face mask lanyards for kids and adults so that masks do not have to be placed on the desk or table when eating, and they won't get accidentally knocked to the floor.
Kids

are

socializing and having fun!: People have wondered whether COVID-era schooling would be a sad experience for children, with having to maintain physical distance, wear masks, and adhere to strict safety rules. Not so! While there is some getting used to, this quickly has become their new normal, and, as always, kids are having fun, socializing/talking to each other at lunch, going to recess, and continuing to have dance parties (socially distanced, of course)!
Ditch the face shields: Everyone is buying up face shields for kids and staff. We've seen pictures of students in other countries wearing face shields at school, but we did not have success with these. Our staff got very hot and sweaty behind the face shields, and they fogged up so that it was hard to see. They were a little more bearable if you wore them angled outward to let the heat escape. Life behind the face shield also muffled the experience, making one feel uncomfortable and not fully present. While their use remains optional, we consider them fairly unworkable. They were, in any event, a "plus factor" because the critical protective piece is the mask. We have purchased safety goggles and are trying them out; we will see if these become useful items!
More physically distanced floor stickers: We have ordered many, many more round floor stickers than originally planned to ensure that kids can see (and stand on) the minimum distance we need them to maintain between each other,

including on stairs

. One of the more challenging systems is transition to and from the bathroom and maintaining physical distance between students. This has required a very high level of attention, consistent addressing, and explaining the why behind. Asking kids to do something like this that they are highly unaccustomed to is much more effective if they understand the why behind, not just told to stay apart.
Fanny packs are back!: In our welcome-to-school pack, we provided staff with fanny packs, thinking some teachers may want to use them to carry around hand sanitizer. Our teachers love them, as they operate as a PPE-on-the-go station (disposable gloves, extra masks, hand sanitizer, etc.).
Disposable gloves are not magic: I personally do not like disposable gloves. I have seen people wear these and develop a false sense of safety, for example, touching one child's individual supplies and then another child's individual supplies (defeating the purpose of having supplies that are not shared). If the person were not wearing gloves, the person would be much more likely to be vigilant around sanitizing hands before/after. We have spent time raising awareness about this issue with our staff.
Hand sanitizer stations everywhere: The convenient availability of hand sanitizer dispensers or bottles everywhere is key: hallways, outside bathrooms, etc. Teachers cannot be hunting around for hand sanitizer. Same with disinfecting wipes to promote a culture and practice of sanitizing frequently touched surfaces.
Put the toilet seat lid down!: We installed toilet seat lids because we understand that invisible spray from flushing is a culprit of COVID-19 spread. We have had to reinforce repeatedly the practice and habit of putting down the toilet seat lid

before

flushing. We know this rule was broken if people walk into a bathroom and the lid is up! So our goal was 100% lids down by end of week.
"All Good to Go" Stickers to Speed Up Drop Off: For drop off, families are wearing masks and standing 6 feet apart based on sidewalk tape we have laid down. While they are waiting on line, someone in full PPE is going around taking students' temperatures and asking families whether the answer is "yes" for their child or anyone in their household to any of the questions on our health screening questionnaire (printed in English and Spanish on poster paper, laminated, and hung in prominent places for families to see while on line). On Day 2, we added round, colored stickers (different color for different days) to be placed on students' shirts once they are cleared. When they reach the door to greet the principal, the principal then knows with confidence that the student was cleared and admits the student.
Industrial disinfectant sprayer is a must: Our porter (custodian) uses this handy tool to disinfect our buildings at the end of the day and during the day as needed (ensuring students and staff are not in the area). Turns out, it is also handy to quickly sanitize recess equipment and items between use (making sure fully dry and safe after spraying and before use).
Touchless iPad sign-in system (and health screening questionnaire platform): Our operations team loves this system; we should have implemented it sooner!
Act as if COVID Is in the School: School staff must be reminded to act as if COVID-19 is in the school at all times. We cannot be paralyzed by fear; we have seen that hospitals are able to manage COVID-19 risk even when people with COVID-19 come into their space, but they do this by strictly following the rules. The wonderful thing about human beings is that we are so resilient. By the end of Day 1, I could see this resiliency, as people were getting comfortable with our new way of being . . . but a little too comfortable so that there were little rule breakages here and there. Our leaders have made it their mission to build a tight, safe COVID-19 culture at their schools. We have stated for ourselves that we will know we have a safe COVID-19 culture at our schools when every single staff member and every single student start calling each other out for rule breakages, and that we see this happen every single time a COVID-safe rule is broken. We have reinforced amongst ourselves that we simply cannot be polite when it comes to COVID-19 risk!
These are just some of our lessons learned. If you have any questions, join us for our virtual Q&A mentioned at the beginning of this blog, and/or send us your questions, and we will make sure to cover them either at the Q&A or a future blog post.
We are sharing our learnings and experiences in hopes that we can be a source of concrete encouragement, learning, and support amidst tremendous noise as schools take the necessary steps toward safely reopening their doors. Our last post sharing our experience with failed promises and pledges by NYC's Mayor and the NYC DOE Chancellor is here. Stay up to date with all of our blog posts by visiting here.