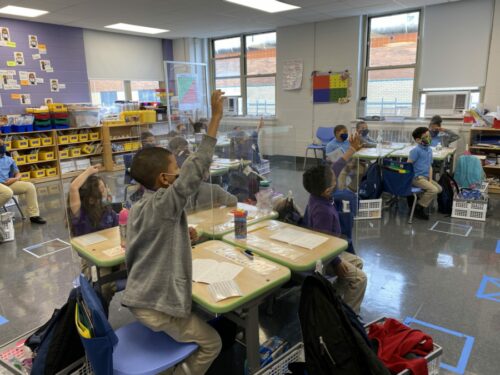 New York's Coordinated Response to COVID-19 Outbreak Clusters Is the Right Approach for Our City, State, & Nation—But Schools Still Need More
In recent weeks, New York City has seen an increase in COVID-19 positive tests. This is largely driven by "hotspot" areas in Brooklyn and Queens, where mask wearing and social distancing have unfortunately not been practiced with fidelity.
Governor Cuomo has identified Red, Orange, and Yellow Zones based on COVID-19 positive testing rates in these areas (Red being a 3% or higher positivity rate over a 7-day average, Orange being the 5-block radius around the Red Zone, and Yellow being the surrounding areas of concern). Governor Cuomo has directed schools in Red and Orange Zones to close, and schools in Yellow Zones to remain open but conduct mandatory weekly testing of 20% of students and staff.
The Governor has enacted targeted rules and regulations to contain spread within these areas, including enforcement action and issuance of fines for certain violations. Combined with general masking, social distancing, and frequent hand washing/sanitizing, the Governor's "crush the clusters" approach is the coordinated response that we must collectively have in New York City, in New York, and across the nation in order to protect against another massive outbreak of the COVID-19 pandemic.
And yet this is still not enough for schools that are open in person.
Schools Need the Ability to Conduct Rapid COVID-19 Tests Onsite at All Times, Whether They Are in Yellow Zones or Not
While Mayor de Blasio has implemented randomized testing across NYC DOE schools, once again public charter schools are excluded, evidencing New York City's dearth of leadership when it comes to COVID-19, with a mayor who views himself as the mayor of some New Yorkers but not all. Such leadership is, at best, short sighted and, at worst, unconscionable; an outbreak in a non-DOE school has the potential to affect the entire New York City community.
In search of our own solution at Zeta, we investigated acquiring rapid COVID-19 testing ability ourselves, using COVID-19 tests that are waived under the Clinical Laboratory Improved Amendments (CLIA) by the Food and Drug Administration (FDA). CLIA-waived tests can be performed by any site that obtains a CLIA certificate of waiver and follows the manufacturer's instructions. We sought to obtain such a waiver so that our school nurse could oversee the administration of COVID-19 tests at our schools. The New York Department of Health informed us, however, that under New York's stringent application of CLIA, our application would be rejected because our school nurse is a Registered Nurse (RN), and CLIA waivers under New York law (in contrast to Federal law) are permitted only for sites overseen by Nurse Practitioners (NPs), not RNs. Our understanding is that school nurses are more often RNs, not NPs.
Preventing school nurses from overseeing the administration of rapid COVID-19 tests makes no sense in the middle of a worldwide pandemic that has closed down schools and wrought havoc on our economy and daily lives. School nurses can surely be trained to appropriately oversee the administration of CLIA-waived COVID-19 tests. Indeed, we understand that in hospitals across the nation, RNs are charged with administering COVID-19 tests. An exception must be made to New York's CLIA waiver requirements to allow school nurses the ability to oversee the administration of rapid COVID-19 tests in schools.
In the meantime, with an absence of City leadership on this issue, at Zeta, our workaround is to ask our in-person staff to get tested weekly. When possible, our staff members have scheduled standing weekly appointments at community testing sites nearby our schools to get tested. When not possible, our staff use mail-order at-home COVID-19 tests weekly. While these workarounds are better than no testing at all, they require staff time to go offsite to get tested or to order COVID-19 tests to be shipped weekly to their homes and then shipped back, as well as operational effort to track the results. These approaches also result in delayed test outcomes, with an average 2- to 3-day turnaround time.
Rapid testing capability is available, and there is no justifiable reason for schools not to have it. Such testing capability protects the entire community, and enables schools to meet children's need for in-person educational access, while maintaining safe school environments.
Rapid COVID-19 Tests Must Be Made Available, at an Affordable Cost, to Schools
At a time when schools face substantial funding cuts, and the need for rapid tests is greater than ever in order to ensure consistent access to education for children, our government leadership must work to ensure rapid tests are available to and affordable for schools. Currently, available rapid tests range from around $20 to $50 per test. While more affordable tests exist, they have largely been acquired by state and local authorities that now control their distribution, and schools in New York do not have access to them unless they are located in Red, Orange, or Yellow Zones. Given the frequency with which COVID-19 testing must occur in order to effectively protect school and larger communities, the cost quickly becomes prohibitive. Schools should not have to choose between providing excellent academic programming for kids or providing COVID-19 testing to ensure the safety of our communities.
All rapid COVID-19 tests must pass through an FDA emergency use approval process, and as a part of that process, testing companies should be required to provide schools with a substantial percentage of free or low-cost rapid testing until every school has sufficient access to affordable COVID-19 testing capability.
Across the nation, teachers and staff are going above and beyond every day to provide consistent, high-quality education to children in the midst of this worldwide pandemic crisis. We need bold, decisive leadership to take a stand for all schools and provide schools with access to regular, convenient, and affordable onsite rapid testing capability.
Read our other School Reopen blog posts here.