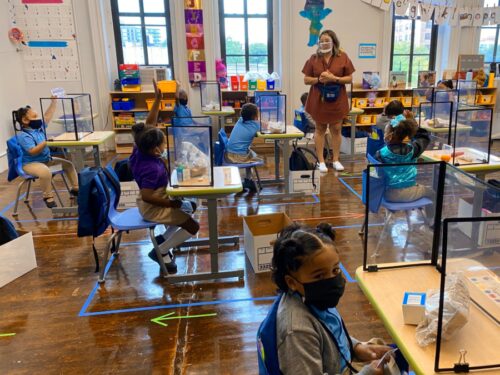 We are sharing our school reopen journey.  You can view our other blog posts here.
After months of struggling with the calamitous impact of the COVID-19 pandemic on kids' education, today is our first day of in-person school for nearly 200 Zeta children.  Our remaining 700 students started school remotely last week.
Over the course of the past month, NYC Mayor Bill de Blasio and NYC Department of Education Chancellor Richard Carranza have repeatedly made public pledges about steps they would take to ensure a safe school reopen.  They said they would ensure sufficient air ventilation in all classrooms, and purchased 10,000 air purifiers for DOE buildings.  They announced that all NYC staff would have access to 34 city-run expedited COVID-19 test centers.  They announced that all public school buildings would have a nurse.  The Mayor unveiled an Outdoor Learning initiative to allow schools in the 27 neighborhoods disproportionately impacted by COVID-19 to use public parks or school streets, and invited all schools (public, charter, and private) to apply.
For a moment this summer, it seemed that the Mayor and the Chancellor were setting aside charter politics and putting all NYC kids first, especially those most vulnerable and hardest hit by the COVID-19 crisis.  It seemed they recognized that we New Yorkers are in this worldwide pandemic crisis together.  At a time when schools are navigating hundreds of unprecedented rules and regulations to protect student and staff safety—leading us to redesign our school and staffing model, rebuild our daily procedures, and spend incredible sums on safety upgrades and materials—the City and the DOE have publicly positioned themselves as partners in our reopening process.
But unfortunately, our harrowing reality over the past few months as we have prepared to reopen our school doors tells a much different story:
After confirming that our schools would have nurses, the City tried to take them away the week before our schools started.

After announcing nearly one month ago that all NYC school staff would have access to 34 expedited COVID-19 testing sites, including charter schools, the Mayor and the Chancellor have refused to provide charter schools with the list despite repeated letters asking for the information for the safety of the NYC communities we serve, as well as the entire NYC community.

When we requested outdoor learning space, as invited by the Mayor's Outdoor Learning initiative, we received an email from the DOE congratulating us for being approved to use our own pre-existing space for outdoor learning.

Meanwhile, the DOE continues to maintain that we cannot open our sole DOE facility to kids until the DOE starts in-person, despite the fact that our DOE facility would enable us to spread out further and increase the safety of our students and staff.

The DOE has taken no action to improve the ventilation in our DOE facility, and has not provided this facility with any of its 10,000 air purifiers.

Repeatedly, the City and the DOE have used the COVID-19 pandemic as a reason for months of extraordinary delay in facilities and UPK contract discussions, building safety upgrade approvals, and necessary inspections, resulting in crippling uncertainty, debilitating our ability to plan for an already challenging school year and causing innumerable last-minute fire drills.

The City has additionally failed to ensure free or affordable WiFi for hundreds of thousands of NYC school-aged children learning remotely, despite

calls for action by Bronx electeds

, leaving too many children without educational access.  We have had to obtain cell phones with hotspots activated for some of our students so they can learn remotely.
The most vulnerable children and families are facing a national emergency, a historic educational crisis of a magnitude we cannot yet fully grasp.  Our city's leaders tweet promises to do everything in their power for safe, excellent schools but then privately disregard the children and families we serve, as well as the teachers and staff who are courageously taking a stand for their students.  This duplicity further rigs the educational apparatus against the most vulnerable kids, exacting a particular brand of injustice toward children that is pernicious and unconscionable, especially as they struggle through these most difficult of times.
I take heart in the fact that, despite all of the obstacles, we were able to open our school doors today.  What a joy to see our students learning in person again!  I also take heart that there are many educators and school operators out there who are strategizing, planning, and working day and night to deliver the education that is the right of every child, whether in-person or remote.
The 2020-21 school year—a  year unlike any other—is underway.  Let's get on to the work of it!
We are sharing our learnings and experiences in hopes that we can be a source of concrete encouragement, learning, and support amidst tremendous noise as schools take the necessary steps toward safely reopening their doors.  Our last post covering how Zeta uses COVID-19 data to inform our school reopening plan is here.  In our next post, we will cover our lessons learned after Week 1 of our return to in-person schooling.  Stay up to date with all of our blog posts by visiting here.