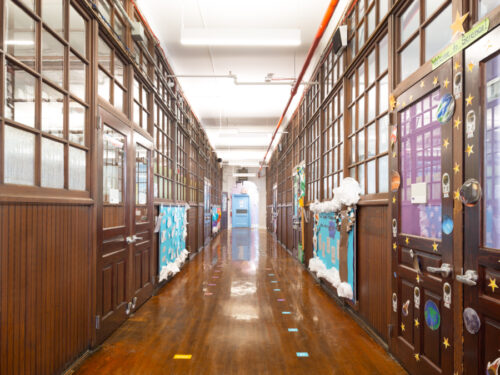 We are sharing our school reopen journey.  If you would like additional information about anything we have mentioned below (or have suggestions for us, which we welcome), please let us know.  You can also view this article and our other blog posts here.
I try to read everything I can about school reopen, especially the news stories that are circulating so that Zeta can learn from others' experiences as they reopen their doors.  All over the news are cautionary tales of schools in other countries and other states that attempted to reopen and had to close pretty soon thereafter.  The headlines are tremendously discouraging for schools thinking about reopening their doors, but if one reads what actually happened, usually widely accepted COVID-19 safety protocols were not followed.  I can't say this was true in every case, but in many of the most recent high-profile cases, basic COVID-19 safety protocols were not in place.
For example, in early August, national news headlines reported that public schools in Georgia had reopened and experienced widespread outbreaks the first week of school, forcing school closures right after reopening.  Mask wearing and social distancing were "a personal choice"—a practice that apparently complied with the state's school reopening policy.  Photos and videos emerged on social media of packed hallways and students without masks, after which the district stated that it would provide staff with cloth masks and face shields and would try to reduce crowding.  At a nearby Georgia district, within 10 days of school reopen, over 1000 students and staff were ordered to quarantine.
Stories like these confirm what should be fairly obvious, but somehow needs to be stated explicitly:  given the nature of what we now know about how COVID-19 spreads, school reopen cannot be done safely without strict safety protocols like masking, significantly reduced density, and physical distancing to the extent possible in schools.
I want to be clear that I am not saying the opposite is true, that if schools enforce masking, significantly reduce density, and practice physical distancing to the extent possible, that school reopen will definitely be successful.  It does seem pretty clear, however, that those measures give school reopen its best chance of success.  And without these measures, there is really no point in even trying to reopen safely.
For some time, we hesitated to publicly state our intention to reopen in person, acutely recognizing that we risked ending up a cautionary news headline if we were unsuccessful.  But the dominant narratives of school reopen have been immensely frustrating as we have tried to simply put our heads down and press our shoulders against the boulder we are pushing up a hill.  Schools need to hear from other schools that are working to serve students in person as safely as possible because while health, safety, and education become increasingly politicized, our most vulnerable kids and families are collateral damage.  Our kids' futures are at grave risk if we do not boldly and safely, armed with data and science, press ahead with school reopen, even in the face of the real potential of failure.
Our best chance of successful school reopen is to implement to the extent possible practices and protocols we have learned that have worked elsewhere.  We look to schools in countries like Taiwan that have reopened with success.  We look to practices used in hospitals, which have the highest COVID-19 exposure rates but a lower rate of infection than the general public.  We look to the YMCA of the USA and the NYC DOE, which cared for more than 10,000 children of essential workers during the height of the pandemic in New York from late March to June but had no reports of coronavirus clusters or outbreaks.
There is no magic bullet, but the evidence thus far is sufficient to warrant carefully going down the path of school reopen, with a 1% average COVID-19 positive infection rate holding steady in New York for over two months.  We believe that an important factor to a safe school reopen is the establishment of strong safety protocols and tight operational execution and accountability.  As such, we have spent a tremendous amount of time revamping all of our operational procedures in a COVID-19 context.
Below is a list of our COVID-19 operational procedures and one of the procedures written out.  Given the voluminous nature of all of our procedures, it is not possible to provide them all here.  If you are interested in receiving the full set, please reach out to us via email or message with your name, role, organization, and email address.
Zeta COVID-19 Daily Systems and Procedures
Staff Arrival Procedures 

Student Arrival Procedures (provided below)

Student Attendance Procedures

Student Uniform Procedures 

Student Late Arrival Procedures

Student Breakfast Procedures

Student Bathroom, Hand Washing, and Hand Sanitizing Procedures

Student Lunch Procedures

Student Recess Procedures

Student Snack Procedures 

Student Dismissal Procedures (Outdoor Dismissal)

Student Dismissal Procedures (Indoor Dismissal)—Inclement Weather Days Only

Student Late Pick-up Procedures

Student Bus Procedures

Teacher Workroom (TWR) Procedures

Adult Bathroom Procedures

Main Office and Other Adult Workstation Procedures

Additional Adult Zen Space Procedures

School Visitor Procedures 

Evacuation Drill Procedures

Lockdown Drill Procedures

Daily Cleaning Procedures—All School Staff

Symptom Monitoring and Containment Procedure

Other COVID-19 Daily Procedures

Classroom Routines and Procedures
Zeta Student Arrival Procedures
Vision

/

Goals

Individuals dropping off / picking up all wear masks and maintain 6 feet social distance

All students are wearing a face mask, are screened using our questionnaire, have their temperature quickly checked with no-touch thermometer, and apply hand sanitizer as they enter the building

Students stay 6 feet apart from the arrival line to their classroom 

100% of staff are in their assigned post by 7:15am and ready to perform their morning duty

Doors open at exactly 7:20am 100% of the time

Students and families feel warmly welcomed

COVID-19 Context

Assuming each student takes 10 seconds to enter the building (questionnaire response, temp check, hand sanitizer, grabbing breakfast, keeping 6 feet distance, etc.) we can have 150 students arrive in each door during a 25-minute window. Our execution must be efficient and super tight.

The step-by-step procedure below will vary based on the enrollment of that specific building, how many kids are attending school per day (depending on the school model), and the number of entrances being used for arrival.

Step-by-step Procedure

 

Laminated posters displaying the

student and family questionnaire

are posted in English and Spanish outside the building and at the entry temperature check point

Each morning, designated operations staff members must have ready at drop off (can be on their cell phones) today's list of areas with widespread community transmission of COVID-19 per the

New York State Travel Advisory

(must be printed daily because list could change from day-to-day)

By 7:10am, Security sets up all physical distancing markers (6 feet apart) at all arrival sidewalks/doors (these must be set up for as long as the arrival line could go—most likely wrapping around the building or down the entire block depending on the building)

By 7:10am, Food Service Aide sets up grab-and-go breakfast items inside all arrival doors 

By 7:10am, school-based Operations Team (SBOT) has done a sweep of the school building following the

building opening checklist

By 7:15am, all staff have dropped off belongings, gone through their classroom

morning checklist

, and are in their arrival posts

By 7:15am, School leadership has done a walkthrough of the building to check all staff are present and at their post 

By 7:18am, all staff assigned to do temperature screening at an arrival post have disposable latex or non-latex gloves and a safety gown ready to put on for arrival

Note: we will have extra masks, face shields, and disposable gloves at each arrival door in case a staff member makes contact with a student and needs to change his/her gloves or if a student needs a mask/face shield
At 7:20am, arrival doors open 

We will use all possible arrival doors at each site, evenly distributing the number of students coming in each door by splitting by classroom and/or grade (

e.g.

, at Inwood 187th, 4 K classes come in the main entrance, 1 K class and all 1st grade classes come in the side door entrance)

We must ask each person dropping off to stay with his/her student until the temperature screen takes place

As each student enters, the following takes place

outside

the building:

Person dropping off ensures each student has a mask before Zeta staff member uses no-touch thermometer to take student temperature

A Zeta staff member greets the student warmly, saying "Good morning, [first name of child]!" before using no-touch thermometer to take the student's temperature and asking student's parent/guardian/individual dropping off whether they have any "yes" responses to the posted

student and family questionnaire

If temperature is 100.0 degrees or lower and response is "no" to each questionnaire question, student enters the building

If above 100.0 degrees or response is "yes" to any questionnaire question, Zeta staff member who took the student's temperature and conducted the questionnaire alerts the family and asks the student and family to see a separate staff member on the sidewalk

The family walks to the separate staff member who asks if the student's temperature was higher than 100.0 degrees or if the answer is "yes" to any questionnaire questions.  If temperature was higher than 100.0 degrees, or any of the answers to Questions 1-3 on the questionnaire is "yes," the staff member explains our temperature or health screening policy (student cannot enter the school and must be taken to health provider for evaluation and possible COVID-19 testing).  If the student and/or family traveled recently, the staff member finds out where and when.  If the student/family traveled within the past 14 days from an area with widespread community transmission of COVID-19 per the

New York State Travel Advisory

, the staff member explains our travel policy (student cannot enter the school and must quarantine at home for 14 days from date of return).

Note: separate staff member on the sidewalk will be in a location on the sidewalk that is socially distanced from the line of students waiting to have temperature taken

If the student does not have a mask, Zeta will provide a disposable mask before the student enters the building and remind the family that the student must wear a washable/reusable mask (provided by Zeta) tomorrow

If the family says the student is medically unable to tolerate a mask, ask the student and family to see a separate staff member on the sidewalk who explains our mask policy. (We need a doctor's note stating that a student is medically unable to tolerate a mask. Once this note is received, this student will be required to wear a face shield in place of the mask.)

Note: separate staff member on the sidewalk will be in a location on the sidewalk that is socially distanced from the line of students waiting to have temperature taken

When the student is 6 feet into the building, the next student is sent in after having his/her temperature taken

As each student enters, the following takes place

inside

the building:

Student uses the automatic hand sanitizer dispenser at the entryway of the building to apply hand sanitizer to both hands, palms, fingers, in between fingers, back of hands and fingers

Zeta staff member (wearing mask, face shield, and gloves) hands the student an individually wrapped breakfast, and the student walks to his/her classroom

Zeta staff member continues to hand out breakfast, ensuring only one student at a time to allow for 6 feet of social distancing between students

Additional Zeta staff members are stationed at each entry door as well as in all hallways and on stairwell landings to ensure students stay 6 feet apart throughout the transition
We are sharing our learnings and experiences in hopes that we can be a source of concrete encouragement, learning, and support amidst tremendous noise as schools take the necessary steps toward safely reopening their doors.  Our last post covering the safety measures Zeta is implementing by way of facilities upgrades and safety equipment is here.  In our next post, we will cover how we understand COVID-19 infection rates and trends.  Stay up to date with all of our blog posts by visiting here.